Our Mission Statement
Our mission is to promote dancing and dance related activities with our friends and students throughout Fort Wayne and the surrounding area. We want more folks to have fun and make new friends while learning to dance. We also strive to serve the larger community through dance-related service activities and events.
.
Dance. Music. Events.
What we are about.
Dance. We teach line and pattern partner dances and beginner couples dances. We help those interested in learning more about these forms of dance.
Music. We play great line dance and ballroom dance music for those who love these styles of dance. We believe great music makes dancing more enjoyable.
Events. We sponsor dances, support dance-related charity events, and teach and DJ for others at their events. Dancing is a great way to have fun, see old friends, and make new ones.


.
Support Our Web Site
Support our mission.
You can help defray the costs of our web site simply by browsing and shopping at Amazon or Walmart starting from here. It doesn't cost you any extra. And we get a little something for your trouble.
---
---
---
.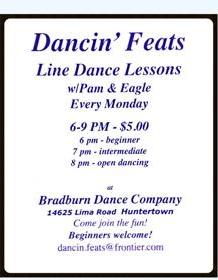 Welcome!
Welcome to our web site.
Find out about upcoming events, see where we will be teaching, and learn about dancing. Contact us with suggestions, questions, or requests... and let us know what you think of our new web site.
Here's The Latest.
Keep up with what's happening.
.

February 27 - March 2: Fort Wayne Dance For All, Grand Wayne Center, Fort Wayne, IN. Theme is Survivor: Outwit, Outplay, Outdance. Hosted by Jamie Marshall. You survived another great weekend. Get the step sheets for dances we taught! Read the article in the Journal Gazette. And then be sure to mark your calendar for next year's event: February 26 - March 1, 2015.

.

Weather Watch! With the type of weather we have been enjoying this winter, we suggest you check our web site before class. We will post a notice if we decide to cancel a class. We suggest you refresh the page in your browser to be sure you are looking at the latest update. We also email those who have provided an email address. Be careful out there!

.

Step Sheets added. The paper work for Making Waves, Hootenanny, Love Soul Shack, Step Right Up, c.b.f., Circle Of Love Train, Barefootin', WWR, Swingin' Thing and Clap Happy are the most recent additions.

.

Check out our new Menu addition. We call it the Dance Web page and it features Dance related items found on the World Wide Web. There is room for more, so if you know of an interesting dance related item from the Web, let us know.

.

Saturday, March 8: The March Fort Wayne Dancesport Ballroom Dance is scheduled for Saturday, March 8, from 7 p.m. to 11 p.m. at IPFW's Walb Student Union Ballroom.

.

July 3rd - 6th: Indy Dance Explosion is the premier dance event in Indianapolis! You don't want to miss hours of workshops, competition and late night dance parties. Four rooms with a mix of Country, Line Dance and Swing with some of the top instructors in their fields at the beautiful Wyndham Indianapolis West.

.

Our web site is under re-construction. Phase One is to rebuild elements of our old site and make them a little better. And we are making good progress. We've added a treatise on Phrasing in Music and released our latest version of Greenhorn Junction under Dance Instruction. Working pages now include: Please check back as we continue the re-construction effort. If you follow this link you can still visit the pages of our old site (which is no longer maintained).