Our Mission Statement
Our mission is to promote dancing and dance related activities with our friends and students throughout Fort Wayne and the surrounding area. We want more folks to have fun and make new friends while learning to dance. We also strive to serve the larger community through dance-related service activities and events.
.
Dance. Music. Events.
What we are about.
Dance. We teach line and pattern partner dances and beginner couples dances. We help those interested in learning more about these forms of dance.
Music. We play great line dance and ballroom dance music for those who love these styles of dance. We believe great music makes dancing more enjoyable.
Events. We sponsor dances, support dance-related charity events, and teach and DJ for others at their events. Dancing is a great way to have fun, see old friends, and make new ones.


Neighborhood Connection
Did you receive your catalogue in the mail?
Check out the opportunites to Dance for Fun and Fitness on page 11. Our Beginning Line Dance class starts September 23rd. For more information, see our Class Schedule or register.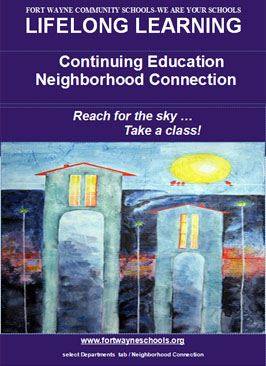 .
Support Our Web Site
Support our mission.
You can help defray the costs of our web site simply by browsing and shopping at Amazon or Walmart starting from here. It doesn't cost you any extra. And we get a little something for your trouble.
---
---
---
.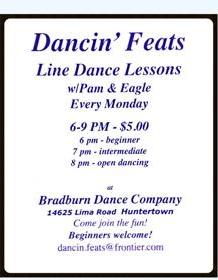 Welcome!
Welcome to our web site.
Find out about upcoming events, see where we will be teaching, and learn about dancing. Contact us with suggestions, questions, or requests... and let us know what you think of our web site.
Here's The Latest.
Keep up with what's happening.
.

Step Sheets added. The paper work for I'm Mad, Love Simply Runs Out, Y.M.C.A., Dance With Me Tonight, Get It Bae, and Sugar are the most recent additions to our Recent Step Sheets. For information on our lessons, see our Class Schedule.

.

Saturday, September 13: Dance For Them. The Country Diamond Dancers are holding a fundraiser for Make-A-Wish at the Elks Lodge #54 (302 W North Street) in Lima, OH. The group is offering line dancers a day of socializing, workshops, and dancing, with proceeds donated to the Make-A-Wish foundation. Workshops are from noon until 6:30; with open dancing from 7:30 till 11:30; cost for both is $15. Make-A-Wish grants the wish of a child diagnosed with a life-threatening medical condition in the United States and its territories, on average, every 38 minutes. You can be a part of this wonderful work by joining us in supporting this event. For more information, email mands5678@gmail.com.

.

Tuesday, September 23rd: Beginning Line Dance for adults is an eight week course offered through Fort Wayne Community Schools, Neighborhood Connection. For more information, see our Class Schedule or register.

.

Saturday, October 11: The October Fort Wayne Dancesport Ballroom Dance is scheduled for Saturday, October 11, from 7 p.m. to 11 p.m. at IPFW's Walb Student Union Classic Ballroom.

.

Our web site is under re-construction. Phase One is to rebuild elements of our old site and make them a little better. And we are making good progress. We've added a treatise on Phrasing in Music and released our latest version of Greenhorn Junction under Dance Instruction. Working pages now include: Please check back as we continue the re-construction effort. If you follow this link you can still visit the pages of our old site (which is no longer maintained).