Our Mission Statement
Our mission is to promote dancing and dance related activities with our friends and students throughout Fort Wayne and the surrounding area. We want more folks to have fun and make new friends while learning to dance. We also strive to serve the larger community through dance-related service activities and events.
.
What we are about.
Dance. We teach line and pattern partner dances and beginner couples dances. We help those interested in learning more about these forms of dance.
Music. We play great line dance and ballroom dance music for those who love these styles of dance. We believe great music makes dancing more enjoyable.
Events. We sponsor dances, support dance-related charity events, and teach and DJ for others at their events. Dancing is a great way to have fun, see old friends, and make new ones.
For more information, Contact Us.


---
Follow us on Twitter for reminders about our dance-related activities, any schedule changes due to weather or other reasons, and updates to our web site!
---
Support Our Web Site
Support our mission.
You can help defray the costs of our web site simply by browsing and shopping at Amazon or Walmart starting from here. It doesn't cost you any extra. And we get a little something for your trouble.
.
---
---
---
.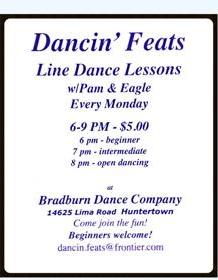 .
---
Welcome!
Welcome to our web site.
Find out about upcoming events, see where we will be teaching, and learn about dancing. Contact us with suggestions, questions, or requests... and let us know what you think of our web site.
Here's The Latest.
Keep up with what's happening.
.

We've Moved! Our Monday night classes have moved to Pro Bowl West in Gateway Plaza at 1455 Goshen Ave. If you remember our lessons at Chap's, then you know where Gateway Plaza is.

.

Dance The Night Away at the Lighted Gardens in Ossian on Saturday, April 18, 2015. Doors open at 5:30 PM. Line Dance Lesson at 6 PM. Dinner at 7:00 PM. Open Dancing from 8 to 11 PM. Cost is $15/person, which includes the meal. 10794 North State Road 1, Ossian, Indiana.

.

Step Sheets added. The paper work for Drunk On A Plane, Moving Hips, Forever Cool, Counting Stars (Easily), ABBAcadabra When You Wish Upon A Star, and Shake It Off are the latest additions to our Recent Step Sheets. For information on our lessons, see our Class Schedule.

.

New Photo! Check out the group photo of our Winter 2015 Beginning Line Dance class! Just added to the Neigborhood Connection Photo Album.

.

Be Happier! Dance more! Studies suggest that certain types of movement, including dance, can make you happier. Watch the TED talk just added to our Dance Web page to learn more.