Our Mission Statement
Our mission is to promote dancing and dance related activities with our friends and students throughout Fort Wayne and the surrounding area. We want more folks to have fun and make new friends while learning to dance. We also strive to serve the larger community through dance-related service activities and events.
.
Dance. Music. Events.
What we are about.
Dance. We teach line and pattern partner dances and beginner couples dances. We help those interested in learning more about these forms of dance.
Music. We play great line dance and ballroom dance music for those who love these styles of dance. We believe great music makes dancing more enjoyable.
Events. We sponsor dances, support dance-related charity events, and teach and DJ for others at their events. Dancing is a great way to have fun, see old friends, and make new ones.


.
Support Our Web Site
Support our mission.
You can help defray the costs of our web site simply by browsing and shopping at Amazon or Walmart starting from here. It doesn't cost you any extra. And we get a little something for your trouble.
---
---
---
.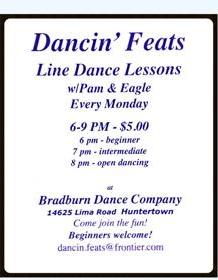 Welcome!
Welcome to our web site.
Find out about upcoming events, see where we will be teaching, and learn about dancing. Contact us with suggestions, questions, or requests... and let us know what you think of our new web site.
Here's The Latest.
Keep up with what's happening.
.

Step Sheets added. The paper work for The Little Things, Wobble, Kreedom, Little Lonesome Waltz, I Love A Rainy Night, Step Right Up, Happy Radio, Four Star Boogie, Mr. So & So, Ghost Train, Mamma Maria, and Clyde Jr. are the most recent additions.

.

The Little Things. We recently taught this dance in our class. Choreographed by Jo Thompson Symanski, this dance was premiered at the 2014 Ft. Wayne Dance For All during its fundraiser workshop and is dedicated to 14 year-old Leukemia patient, Daisie Hilborn, from Montgomery, Texas. On June 13, 2013, Daisie was diagnosed with AML Leukemia. She went into remission and was able to go home in October, 2013. However, after just a few months, she discovered that the chemo had damaged her heart. She had open heart surgery to install a pump and may still need a heart transplant. Daisie and her family are very thankful for your prayers and support as her medical journey continues. Follow Daisie's journey on facebook at "Praying for Daisie Hilborn".

.

Friday, May 2: Line Dancing at the STARLITE, 3690 US 33 N, Decatur, IN! Pot Luck starts at 7. Lesson at 7:30. Dance from 8 to 11. Cost is still only $5.

.

Saturday, May 10: The May Fort Wayne Dancesport Ballroom Dance is scheduled for Saturday, May 10, from 7 p.m. to 11 p.m. at IPFW's Walb Student Union Ballroom.

.

July 3rd - 6th: Indy Dance Explosion is the premier dance event in Indianapolis! You don't want to miss hours of workshops, competition and late night dance parties. Four rooms with a mix of Country, Line Dance and Swing with some of the top instructors in their fields at the beautiful Wyndham Indianapolis West.

.

.

Fort Wayne Dance For All. You survived another great weekend. Get the step sheets for dances we taught! Read the article in the Journal Gazette. And then be sure to mark your calendar for next year's event: February 26 - March 1, 2015. Hosted by Jamie Marshall.
Our web site is under re-construction. Phase One is to rebuild elements of our old site and make them a little better. And we are making good progress. We've added a treatise on Phrasing in Music and released our latest version of Greenhorn Junction under Dance Instruction. Working pages now include: Please check back as we continue the re-construction effort. If you follow this link you can still visit the pages of our old site (which is no longer maintained).